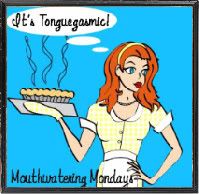 For a few weeks now I've had a recipe I wanted to try: Lemonade Chicken.  But it's a slow cooker recipe, and I would always forget to start it ahead of time!  So..today I decided that I could change a few things and do it in the oven.
6 boneless skinless chicken breast halves (4 ounces each)
3/4 cup lemonade concentrate, thawed
3 tablespoons ketchup
2 tablespoons brown sugar
1 tablespoon cider vinegar
2 tablespoons cornstarch
2 tablespoons cold water
Directions:
Place chicken in  9×13 baking dish.  Combine the lemonade, ketchup, brown sugar and vinegar; pour over chicken. Cover and cook @350 for about 50 minutes or until a meat thermometer reads 170°.
Remove chicken and keep warm. For lemonade sauce, combine cornstarch and water until smooth; stir into cooking juices. Cook sauce in oven  for 20 minutes or until thickened.  Serve chicken over rice and top with lemonade sauce. Yield: 6 servings.
To go with it, I made yet another Taste of Home recipe: Green Beans Amandine.
1 pound fresh green beans, cut into 2-inch pieces
1/2 cup water
1/4 cup slivered almonds
2 tablespoons butter
1 teaspoon lemon juice
1/4 teaspoon seasoned salt
Directions:
Place beans in a large saucepan and cover with water. Bring to a boil. Cover and cook for 10-15 minutes or until crisp-tender; drain and set aside.
In a large skillet, cook almonds in butter over low heat. Stir in lemon juice and seasoned salt if desired. Add beans and heat through. Yield: 6 servings.